POWERSNACK 2
is the oven for small pastry shops, hot points, bars or coffe shops for baking fresh or frozen pastry products or heating up various gastronomy dishes.

Space-saving yet very powerful, the Powersnack 2 trays is a reliable and beautiful ally that will integrate into your shop's décor.
Internal tray support with double format:
pastry format (60x40 tray)

gastronomy format (GN 1/1 tray).
Special features:
stainless steel baking chamber,

tilting door,

internal tray supports in perforated stainless steel for better airflow and better baking results

tempered double door

Ventstop for safer use
Available control pannels:
MANUAL ( on/off, temperature, time and steam)

DIGITAL (on/off, temperature, time and steam + 90 programs)
our strengths
DESIGN
thanks to the simplicity of its lines and style, the oven can be easily integrated into any décor.
STEAM
connect the water supply to obtain the perfect browning you desire
easy 3/4" connection or tank supply if the water connection is not available.
DOUBLE FORMAT TRAY SUPPORT

the internal tray supports have double holdings, for 600x400 and GN 1/1 trays, so that the oven can be used for both pastry products and gastronomy dishes.
technical advantages
RELEVANT DETAILS
door with tempered double glass, welded stainless steel baking chamber with internal perforated tray supports for airflow control, motors with auto reverse
EASY MAINTENANCE
easy to change one piece silicone joint
hinges designed to support the door
ADDITIONAL PROTECTIONS
motor with thermal protection , halogen lamps with protection against thermic shocks
Ventstop : immediate stop of the fan when the door is opened to reduce the amount of heat and steam going out of the cooking chamber

TECHNICAL FEATURES



Powersnack 2

40X60 - GN 1/1

number of trays

2
tray format
40x60 - GN 1/1

external dimensions
mm 875x720x485
power supply
power
connected load

3 kW




3,2 kW

space between trays

90 mm

water connection

1 x G 3/4"

water pressure

2-6 bar

(200-600 kPa)
steam

adjustable

fan speed

1 speed
ACCESSORIES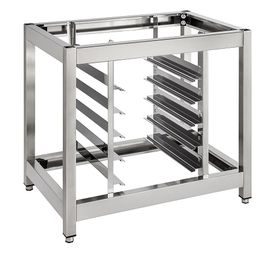 OVEN SUPPORT

TRAYS

PROOFER
KIT WHEELS