POWERSNACK 4
is the oven for small pastry hops, hot points, bars, pizzerias, brasseries or coffeeshops for baking fresh or frozen pastry or bakery products. The oven can also be used as an additional oven in a restaurant to heat up various gastronomy dishes.

It is available in the pastry format (using 60x40 trays) or gastronomy (GN 1/1 trays).
Special functions: horizontal or vertical door opening, removable internal tray supports , internal door glass that can be opened for cleaning.
MANUAL ( on/off, temperature, time and steam)

DIGITAL (on/off, temperature, time and steam + 90 programs)
our strengths
SHOW BAKING
Powersnack 4 trays has a design suitable for both laboratories and sales areas thanks to the large door glass with black screen and to the particular baking chamber.
It is the ideal way to make your customers see and smell the cooking of your products!
EXPERT COOKING ALWAYS
thanks to the particular shape of the baking room, to the installed power and to the two perfectly sized turbines.
STEAM
connect the water supply to obtain the perfect browning you desire
easy and fast water connection
RELEVANT DETAILS
stainless steel baking chamber, tempered double glass door, internal glass door that can be opened for cleaning, special shape baking room, auto reverse motors, central drain for the gastronomy version.
technical advantages
ADDITIONAL PROTECTIONS
motor with thermal protection , halogen lamps with protection against thermic shocks, safety temperature limiter
Ventstop : immediate stop of the fan when the door is opened to reduce the amount of heat and steam going out of the cooking chamber
EASY MAINTENANCE
manufactured using high quality easily available components, quick access to electric parts, easy to change lighting bulbs and silicone gasket.

FLESIBILITY
easy adaptation from the gastronomy format to the pastry one and vice versa
it can be mounted in 220V or 380V

A VARIETY OF ACCESSORIES
essential for your day to day: trays, grills, oven support, proofer or hood.
TECHNICAL DATA



Powersnack 4

40X60 - GN 1/1

number of trays

4
tray format
40x60 - GN 1/1

external dimensions
mm 800x870x570
power supply
power
connected load

6 kW




6,5 kW

space between trays

70 mm

water connection

1 x G 3/4"

water pressure

2-6 bar

(200-600 kPa)

steam

adjustable

fan speed

1 speed



ACCESSORIES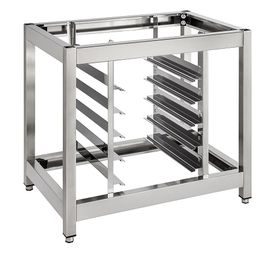 OVEN SUPPORT

TRAYS

PROOFER
KIT WHEELS